Denver Commercial EV Charger Installation
Dutch Creek Electric has been a trusted name in Denver and the surrounding areas for over a decade. We have earned the confidence of countless property owners by providing advanced solutions that prepared them for the future. In recent years, we have performed numerous electric vehicle (EV) charger installations on account of the technologies becoming more available, affordable, and in demand. If you are interested in installing one or more chargers at your commercial location, do not hesitate to turn to us. We would gladly set your property up with a reliable charging system that you can benefit from for years. Plus, we back every job with a 100% satisfaction guarantee. If our work does not function or perform as you need it to, all you have to do is give us a call, and we will rectify the problem right away.
Reach out today to consult with us about bringing EV chargers to your property.
Ensuring Your Satisfaction
Living More Sustainably

Increase Energy Self-Reliance

Harnessing New technologies

Saving On Gasoline & Utilities

Securing Green Energy Incentives
Why Businesses Should Invest in EV Chargers Now

Many commercial property owners across Denver and elsewhere in the United States are investing in EV charging technologies—and for good reason. As more and more consumers purchase EVs, the demand for chargers has grown significantly. This increase in EV drivers has created the opportunity for businesses to become a hub for EV charging. What are the benefits of being known as a place people can go to recharge their EVs while shopping, dining, or traveling?
By installing EV chargers at your commercial location, you can:
Attract New Customers:

By providing EV charging stations, commercial property owners can attract the fast-growing population of EV owners. This can lead to increased foot traffic, longer visits, and the potential for new customers.

Gain a Competitive Advantage: O

ffering EV charging stations sets commercial properties apart from competitors that do not provide this amenity. It demonstrates a commitment to sustainability and positions the property as an attractive destination for environmentally conscious consumer

s.
Make Additional Revenue:

Some commercial properties can

generate revenue

by charging users for the electricity they consume charging their EVs.

Increase Your Property Value:

As EVs become more prevalent, properties with charging stations may command higher rental or resale prices

.
Take Advantage of Tax Incentives: Colorado's National Electric Vehicle Infrastructure (NEVI) Planning program provides tax incentives for EV charger installations.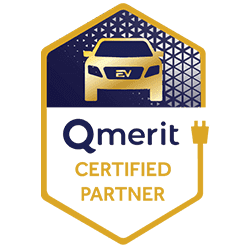 Qmerit Partners
At Dutch Creek Electric, our dedication to providing customers with the most effective and energy-efficient solutions is bolstered by our Qmerit certification. What does this mean for you and your business? It means we are the go-to for commercial EV charger installations in Denver. Not only that, but we have the know-how and skill to maintain and repair your charging stations after we have installed them. With our highly trained and certified team, you get unbeatable workmanship, state-of-the-art technology, and the assurance that comes with having a commercial electrical contractor you can count on.
To get started on your EV charger installation project, call (303) 622-3744 or contact us online and get a free service estimate.
Put a Quality Roof Over You
Schedule Your Appointment Today!
Contact us today at (303) 622-3744 or complete our online form.